Where to find the hottest shemale cam models
Transsexual cam models are girls with dicks who's main aim is to pleasure. They are no different from any other cam model, but you'll be surprised at how popular shemale cams really are. On most mainstream pornographic sites it's listed among the most popular categories and pulls in big viewer numbers on cam sites too. The demographic may surprise you too, stats have shown that the majority of people who view this content are straight men. Since you ended up here I'm going to assume you already enjoy watching TS porn. Watching it live on cam is even better, especially on the sites mentioned in this article.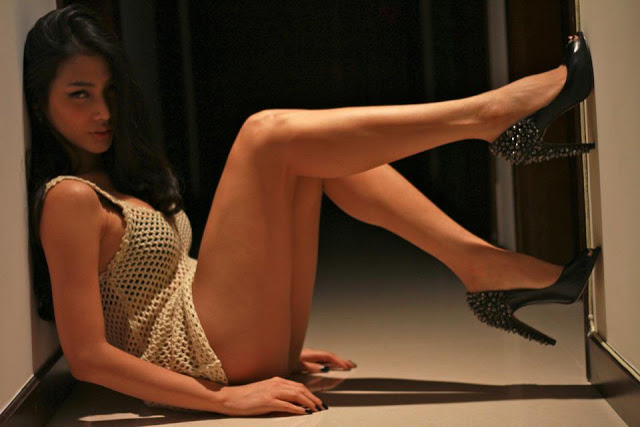 Listed below are the best Trans cam sites available on the internet. It doesn't matter whether you enjoy small dicks, big tits, unconvincing trans models or anything else. These are by far the best websites and we have selected them based on a certain criteria. If you enjoy the hottest transsexual models in full HD and at a cheap price then you will find this article incredibly helpful.
Chaturbate is my to go ladyboy cam site. It's by far the most well rounded cam site and provides you with many different TS cam girls from all over the world. That being said there is many different websites available that may be better suited to your needs.
Royal Cams Trans
Royalcams is a site that I've only recently been made aware of. I must admit I had never heard of it before my friend told me about it.
On RoyalCams you can expect high quality video feeds from some of the hottest trans models you've ever seen. You do have to enable flash player to get the best experience though, which is a little disappointing.
Late in the evening I see 35 live trans models online. This isn't the most popular trans cam site however it's definitely a good one. If you're looking to get attention off of the models there's rarely over 100 users in the chat, so odds are you'll be seen.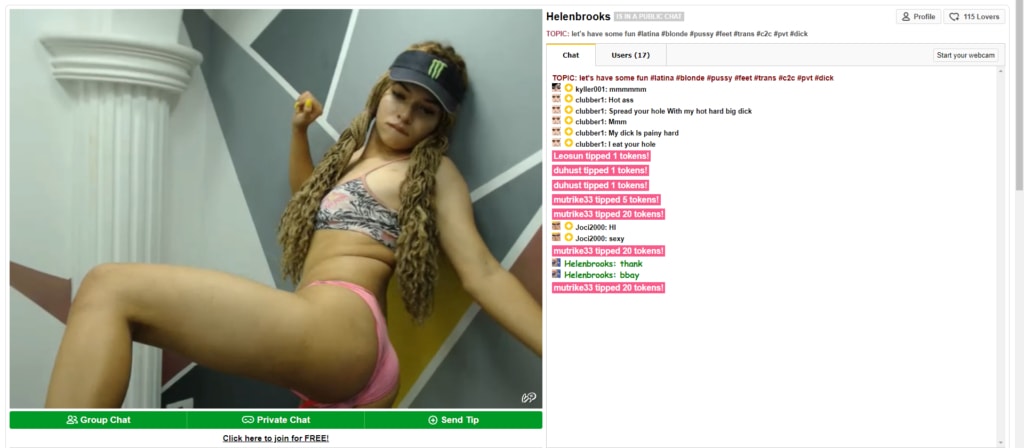 This site has the standard features of most adult cam sites and not much more. That being said, it's got a very clean user interface and shows which models are using vibrating toys.
Models are sorted by gender first and then you can filter through categories, these are the default categories you'd see on a porn site. You can also sort the broadcasters by camscore, just logged in, new models and more.
RoyalCams offers great value for money. If you buy tokens on your mobile phone they will give you 100% extra. Not only that but you'll receive 5 tokens for free if you verify your card. They also have cashback bonuses for the top 5 spenders each day.
Visit Royal Cams
ImLive Shemale
ImLive is a veteran of the adult cam scene. It's been around for 16 years now. Just like Chaturbate, ImLive offers cams from all genders however as it's a popular cam site you'll find various T-Girls ready to entertain you at the click of a button. At the time of writing this article, there is 70 shemale cam models online all from different locations around world. It doesn't matter whether you're into brunettes, blondes, redheads, asians or any other kind of shemale. ImLive has the sexy T-girls you desire.
Unfortunately when compared to other sites, ImLive is lacking HD broadcasts and there is no way to determine whether they are HD or not before entering the broadcast. It may take you a while to find the model you desire but you will definitely find them.
The site may look a little dated however it is incredibly easy to navigate. You'll find a dropdown menu that allows you to select "Trans girls alone" & "Trans Couples" if that's what you are looking for. It will also tell you how many broadcasters are online before you click it. You can also narrow your search further based on body types, race, gender, show type, fetish and more.
Each token costs $0.8-$1 depending on which bundle you buy. The average private show will cost you around $1.5-$2 a minute which for Trans Cam sites is not too expensive. It's mostly up to the model what price you pay for private though. If you catch a model on a slow day you may be able to get a private chat cheaper.
When signing up you'll need to enter your email, username and password. It's really that easy. While there is no signup bonus, you will receive up to $30 worth of free credits on your first purchase. Which is a crazy good deal.
ImLive is a good all round site with a number of hot trans models looking to please you for rewards. If you can't wait to get your hands dirty.
Visit ImLive
CamSoda Trans
Cam Soda is a site that's very fun, its vibrant colours and sexy models make it a very pleasurable site. There's a decent number of T-Girls, not as many as the other sites mentioned in this article especially if you're watching at off-peak times. That being said, the models that broadcast are great. They are unbelievably good looking and the quality of their broadcasts are unbelievable. It's definitely one of the best trans cam sites when it comes down to the quality of models.
The navigation on camsoda is fairly easy. It uses the same tag/tab based navigation that chaturbate does though it's a little more cluttered and disorganised so it may take you a minute or two to get used to it. You'll also get access to some high quality porn videos and there's a page dedicated to models top selling videos, unfortunately the trans models don't really feature in this.
CamSoda's pricing structure is fairly similar to other cam sites. The price of private is around $2 a minute which given the quality of the T-models that are available seems fairly reasonable. Keep in mind these rates are set by models. Given the lack of viewers on CamSoda you may be able to hustle your way to a slightly cheaper show.
As long as you're using CamSoda at peak times or whenever your favourite model is broadcasting it's a great site for chicks with dicks.
When you verify your credit card on CamSoda you get 50 tokens free!
Visit CamSoda
Live Jasmin Transgender
LiveJasmin is by far the most professional adult cam site out there. The User Interface is incredibly easy to navigate and allows you to see live previews or recorded videos of the model so that you don't even need to click on the broadcast to see the model.
While it's not their main focus, LiveJasmin has recruited many beautiful transgirls. I cannot tell you how much I love this site. While I'm not huge on sites that are mostly hidden behind private chats, the quality of each and every broadcast is outstanding. LJ take quality serious and give a guide to each model to help them get the best quality out of their equipment.
Most cameras on LiveJasmin, If I had to guess are at least 572p which is a huge plus. I've been disappointed by other cam sites where I'll eventually find a model I like only for their cam to be poor quality with audio sounding like they're in a wind tunnel. When you use Live Jasmin, this really isn't an issue.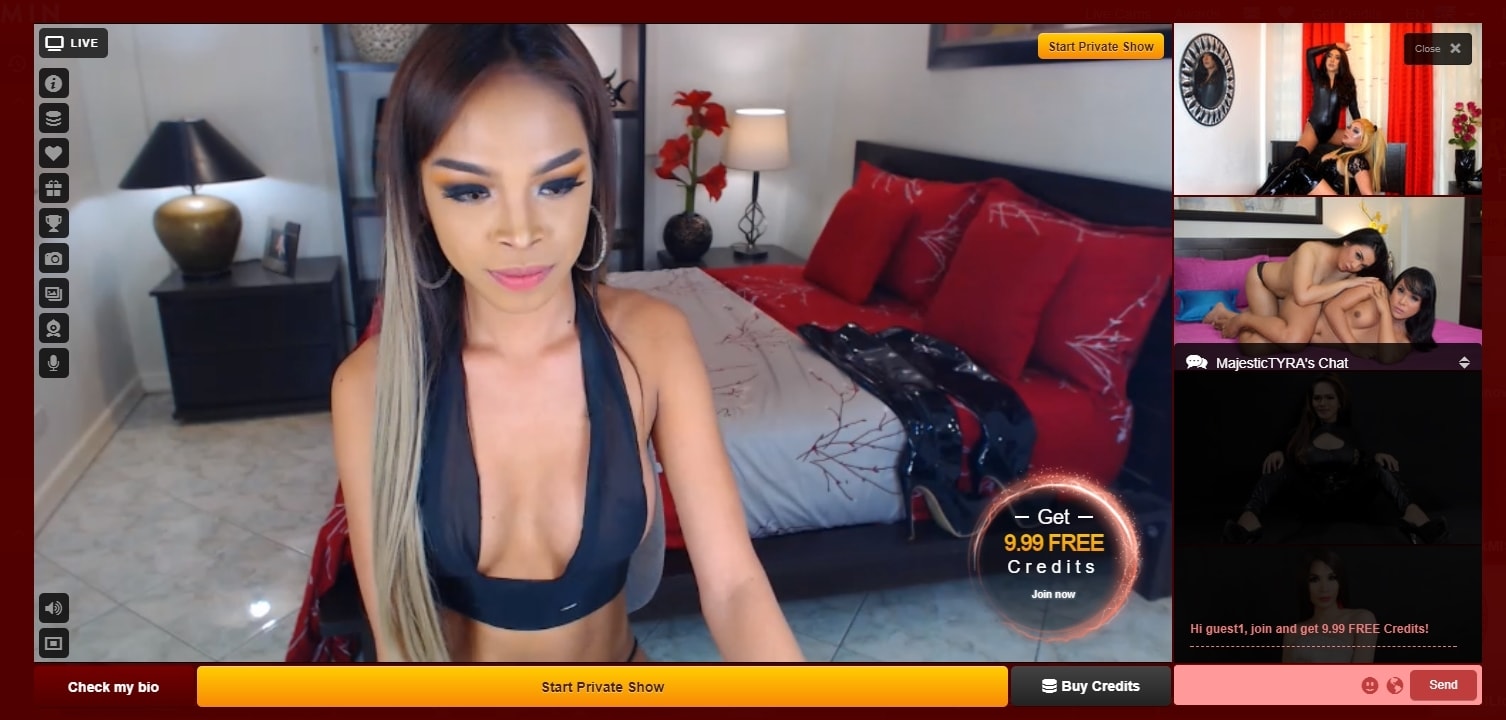 Live Jasmin also offers a great customer experience. You don't need to worry about "LiveJasmin" showing up on your credit card statement as they aim to be discreet, instead it will show one of the many different payment providers names.
The suggested models system is probably the best one I've ever seen on an adult cam site. It's a lot more tailored, I'm not sure if they do it based on the body stats the model has entered but chances are you will actually be interested in the models they suggest.
Logging off after a long session or accidentally closed the page? LiveJasmin remembers which category you were viewing last. So if it happens to be trans models, you'll see that page when you next login.
If you love private chatting with hot Trans models this site is definitely for you. You'll receive 9.99 free credits when you verify your credit card.
Visit Live Jasmin
Flirt 4 Free Trans
Flirt 4 Free is another great site. It's a LiveJasmin type of site. Very heavily focused on the user experience and If you haven't already guessed. I absolutely love that.
Navigation is incredibly easy. You'll find a category drop down menu where it has all types. What I love the most is that when you hover over a webcam with your mouse cursor you'll be able to find out which categories the model fits into, the cost of a private show per/min, a models rating and the quality of her camera. Not only that but you'll also see a live preview.
While Flirt 4 Free are more tailored to private chats, you'll also find girls that host public shows like they would on a site such as Chaturbate or MFC.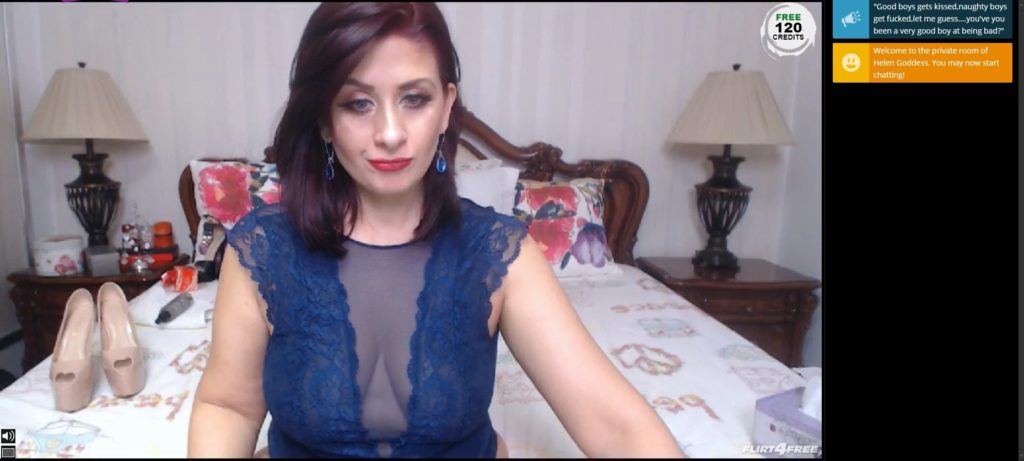 The biggest negative about this site is that it averages 10 trans models online at any time. Despite having 100's of registered T-Models. While you don't have much selection at times, the girls are very sexy and they'll tempt and tease you until you spend.
Flirt4Free also offers a customer reward program which displays a crest/badge based on rank. As you rank up and earn points you'll be able to redeem virtual gifts to give to your favourite cam girls, unlock access to premium cam videos for 24 hours and if you're a model you'll be able to boost your cam to get more viewers.
I have no doubt that Flirt4Free will be one of the best trans cam sites in the near future if they start targeting and recruiting more trans models. If you verify your credit card you'll receive 120 free tokens!
Visit Flirt 4 Free
DagFs Transgirl
DaGFs probably isn't the first place you would have thought about for trans models but they have over 500 trans models that broadcast frequently. The selection is incredible and finding a model that I wanted to watch was almost instant.
Navigation is incredibly easy. Down the left hand side of the site you'll find a list of categories and in the speciality category you'll find "Transgirls". It will tell you how many are online and you can filter the models further by language, region and features. Not only that but there's an overlay over the cameras that will tell you if the broadcaster is in free chat or not so you don't have to waste time.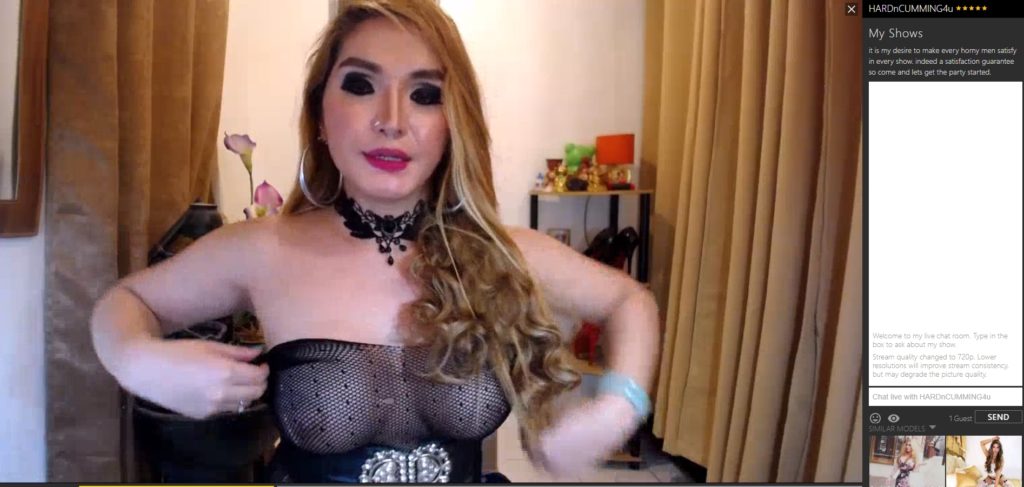 Perhaps it was the time that I was on but there's a huge lack of high quality trans broadcasts when compared with normal models. There was only a handful of 720p trans cams and the ones that said they were 480p seemed questionable. The site definitely allows HD, high bandwidth broadcasts I just didn't see many trans models with good quality streams.
There's numerous different payment options, DaGF's is one of the first trans cam sites that I have seen accept Paypal. In fact it's not really a payment processor that any cam sites use.
Another innovative feature is the "Pay As You Play". How many cam sites make you buy bulk tokens upfront? A lot, if not most. DaGF's allows you to pay as you play, which I'll admit can be risky if you lose track of time or get carried away. I believe you can set a spending limit though.
Models can set the cost of private anywhere between $1/min to 10$/min. You'll find the average for trans models private chats are around $2/min.
The huge selection of Trans models is great and it's why the site made this list. DaGF's has some innovative and customer friendly features that are a big plus. However the quality of the broadcasts left a sour taste in my mouth. There's no harm in trying the site. Why not sign up to DaGF's and experience it for yourself. The normal models broadcast in high quality so I imagine Trans models will follow suit.
Visit DagFs
CAMS.com Trans
Cams.com has been around for a long time. Within that time they have attracted a respectable number of attractive shemale models. Despite being one of the oldest adult cam sites around, they're determined not to live up to the stereotype.
Cams.com has a smaller video feed than most other adult sites. This allows for even the worst quality of broadcasts to look somewhat appealing. Though there's a lot of models that broadcast in HD and will look great on full screen if that's what you enjoy.
At the time of writing this article there is 40 live trans models playing with themselves live on cam. I'd estimate that there's around 150 or more trans models registered on the site. I'm sure If you log on at peak times you will lose yourself in a shemale wonderland.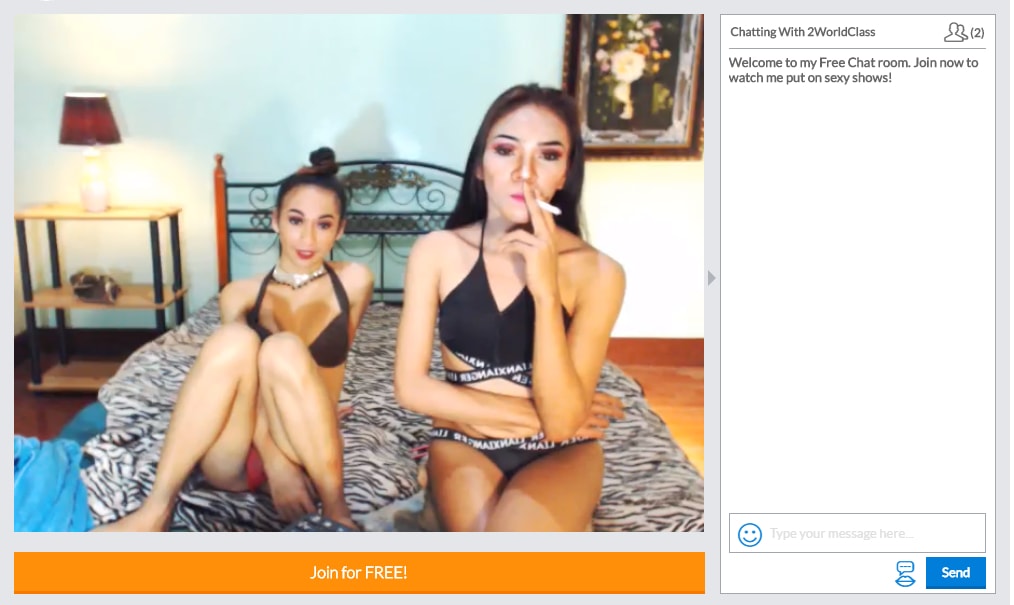 Cams.com has some nifty features that other cam sites don't have. They have a recently viewed tab. If you were watching a model and had to exit the tab or your browser crashed you can jump right back into the action.
When looking for models to watch you are able to filter the show types. You can filter between T-girls that are in free chat looking for private shows or are doing public shows. As well as having your standard run of the mill categories based on age and body type.
I noticed one thing on this site that I hadn't seen so much of on others. If you're interested in girls who do self sucking, Cams.com has an abundance of them and they are not shy. I'll tell you that.
Confirming your email with Cams.com will allow you to receive a free recorded show.
Visit CAMS.com
Chaturbate Trans
Chaturbate is the biggest adult cam site in the world. It shouldn't come as a surprise to you that they have an abundance of hot trans cam girls readily available to you at the click of a button. Many of the best trans cam sites will give you access to very limited free chats. Chaturbate on the other hand allows you to enjoy full shows without having to spend a penny.

While the site is not Trans exclusive, it's incredibly easy to find trans models. All you need to do is click on the Trans tab. You can also keep track of the models by following them once you sign up for a free account, doing this will also send you emails everytime a model you follow goes live (If you enable this feature).
Chaturbate doesn't enforce any quality standards, however if you're interested in HD cams it's easy enough to filter them. There are numerous HD trans broadcasters available to watch at all times. Chaturbate even gives you an option to watch broadcasts in source, so if a model was to broadcast in 4k you could watch in 4k.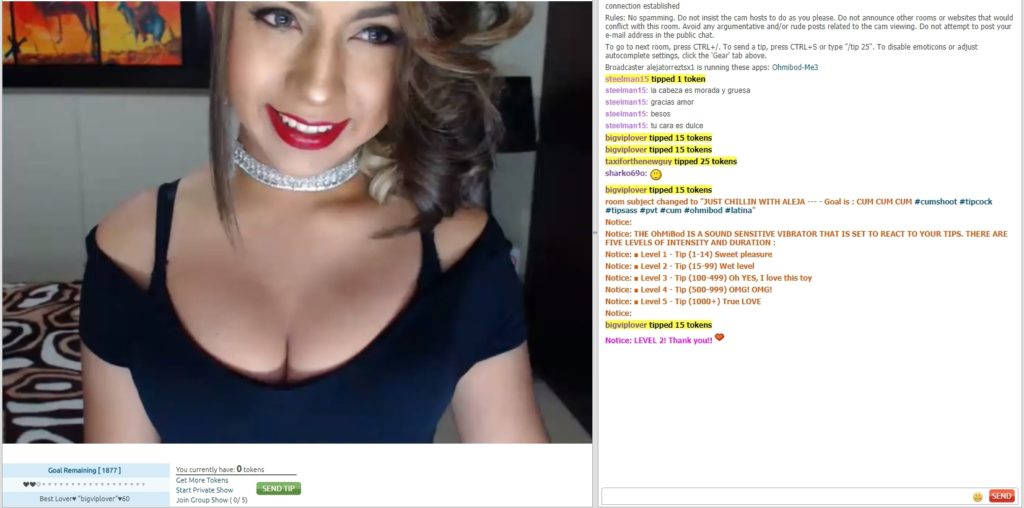 There's an unbelievable number of features available on this website that will enhance your viewing experience. You'll be able to look at free image galleries, follow models on social media at the click of a button and even talk directly to models in private message.
If you're looking to make things more intimate and want to head into private chat, you'll be able to do so for as cheap as $0.68 per minute. If you find the right model they may even watch and interact with your camera too. This is what sells Chaturbate for me, I can't believe the quality content you can get for free and the very steamy, very fun private chats you can get for cheaper than anywhere else on the web.
There is a handful of cons that are somewhat minor but will effect your time on the website. Navigation is a little poor however once you get used to the tag system it's palatable. Another thing is that models can lock their chats for members with tokens only and there's a colour scheme which tells models whether you have tokens, spent "x" amount over a number of days or are just a freeloader with no intent.
Overall Chaturbate is a great site and has a good number of sexy trans models. That's why I've ranked it as one of the better trans cam site.
Visit Chaturbate
Shemale.com
This website started out with huge plans. It wanted to be more than just a cam site, which it is. Shemale.com offers a lot more than just hot TS models and hot cam shows. That being said there is a great variety of hot trans models, so much so that you'll be spoiled for choice and you may spend more time on this site than you want to just finding the perfect model.
Shemale offers many high quality, exclusive trans videos. They will cost you some credits however they're definitely worth it, though there is other sites where you can get similar content for free. You'll also find many different articles about various different topics written by authors and actual models themselves. If you're looking to meet up with trans girls in your area, they also offer a list of local meets.
They also have professional trans pornstars broadcasting on a set schedule so you can make sure to see them.
The website filters are somewhat in-depth. You can filter by host type, body features, show type and even more. If you want to sort the models by private chat cost? You can do that. Shemale is said to have over 2,000 sexy transsexual models.
Shemale does profile pages incredibly well, you'll find numerous features on each profile page that broadcasters have filled in. Read more about the broadcaster, view picture albums, read reviews from happy or disgruntled customers and even pay to watch previously recorded private chats.
While models do show a little bit in free chat, you'll still need to go into private chat to get most of the fun. That being said, each model sets their own private chat price and some will be as cheap as $0.98/Minute. If you're looking for free fun, the only site for you is Chaturbate.
Shemale.com is a great, well rounded transsexual cam site. If you're remotely interested in T-Girls shemale is one of the best trans cam sites you'll find. While the video quality isn't always the best, if you're looking to watch sexy trans girls shoot their load while you also explode.
Visit Shemale.com
MyTrannyCams
MyTrannyCams is the Transsexual version of LiveJasmin. It offers the most diverse range of Transsexual cam models that you'll ever find. This site boasts over 1,000 different TS webcam models that come from all different walks of life. It doesn't matter what you are into, you'll definitely find something you like on this site.
If you go on to any cam site, you'll find broadcasts that vary in quality. But that is not the case with MyTrannyCams. MTC is a step above the competition when it comes to a high quality, professional service. All T-Girls on this site are required to broadcast in 720p at least. This means they boast the biggest selection of shemale cam models as well as the highest quality TS broadcasts. There is no doubt that if all you are looking for is Transsexual models that MyTrannyCams is the creme de la creme.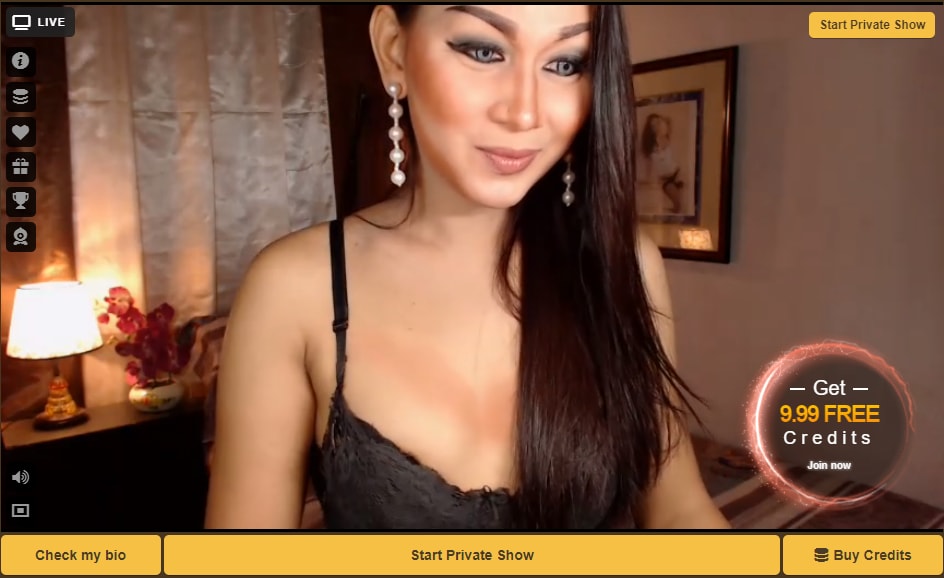 It doesn't matter whether you're just curios about T-girls or are an experienced shemale enthusiast, you'll find everything you could want at MyTrannyCams. Perhaps it's the perfect site for trans based pleasure. The signup process is incredibly easy, only 3 fields are required. Your name, Email & Password. You can also see on your screen that you'll be able to get 9.99 free credits by verifying your credit card.
There are 2 major downsides I can think of. First of all, public chats are nudity free for the most part which forces you into private chats if you want to see more of the model. Private chats are slightly more expensive on this website than anywhere else. However as I stressed before the quality of broadcasts is better than most of their competitors. So if you're into High Quality Shemale cam shows.
Conclusion
Listed above is all of the best trans cam sites you will find. Make sure to keep checking back as I will keep this list updated. If you have any websites with sexy ts cam girls that I may have forgot to mention make sure to comment below. I'd also be interested to hear about your experiences with these cam sites!