Learning fetish acronyms will help you understand your customers requests. I'll have to admit at first the language that some of the adult industry use can be a little confusing if you're not already heavily involved in the scene. When you first go onto a cam site you'll find fetish acronyms in titles and tags. Chances are you're not aware of what these means so you've had to turn to google so that you can pick up the adult cam lingo and talk about fetishes like a pro.
Reading this article may also get you interested in Fetishes you weren't even aware of. Once finished you'll be able to title your broadcasts using the correct fetish acronyms to entice the right type of customers into your broadcast.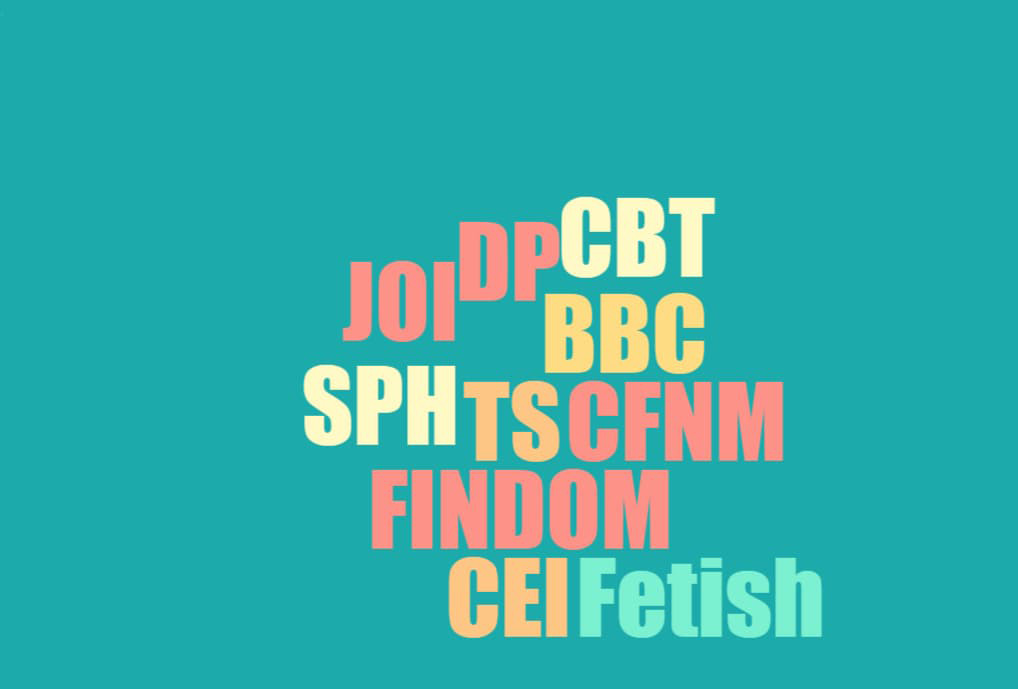 CFNM: Clothed Female Naked Male
This works both ways. It's not always CFNM, it can often be CNFM. For most this will be about the low level power exchange that comes from a woman being fully clothed while a man is naked. You'll most likely have to watch the viewers cam so keep that in mind when accepting to do this, charge what you would normally charge for Cam 2 Cam.
CFNM isn't just a man being naked while appreciating a finely clothed female companion. No there's a lot more beneath the surface than you may think.
It's a fetish which hands all of the power over to the clothed person. Imagine how helpless and insecure he feels. It forces you into a more dominant role and him into a sub role. Some of the guys may ask or want the occasional flash as a reward which further suggests that you are the player with all the power and are in fact the dominant. Viewers will tell you before hand whether they want you to reward them or say no and demonstrate your power instead.
It may seem at first glance that they're got it lucky. They can get all their kicks from sitting watching free public shows right? Wrong.
Nothing gets them off more than being watched and letting the dominant feed off their powerlessness.
BDSM - Bondage, Discipline, Sadism & Masochism
So the word BDSM is very broad and covers various different types of play. Putting BDSM in your broadcast title if you're into will more than likely get the word across, however some people see it as being as simple as rope play. Others may come into your chat and request more taboo types of play.
The most common ones you will encounter are
Wax Play
Flogging
Breast Torture
All kinds of Roleplay
Edgeplay
Ageplay/Adult Baby
Again I cannot stress how important it is to read up on site rules if you're interested in anything that may be slightly controversial or taboo. You really don't want to get banned from a cam site, especially one of the major ones.
JOI - Jerk Off Instructions
This isn't as simple as it may sound. You may think that it's simply saying jerk it for me, well it's not. The guys want you to be thorough and someone that gives good JOI's will take the viewer on a journey of pleasure.
It's literally in the name, your main job is to instruct them while they jerk off. Tell them what speed the should jack off at, how and where they should touch themselves making sure they have the ultimate sensual experience while masturbating.
Some viewers will want you to demonstrate with a dildo or strap on while others will request that you watch them. Don't be scared to charge the clients extra to watch their cam.
There's actually very few models that are good at Jerk Off Instructions, It's one of the fetish acronyms that isn't so popular however it's good to know what JOI is.
Should you decide to master JOI and bring in a client base that loves what you do, it may lead to long & intense private chats with regular viewers. Which is great for your bank account.
BBC - Big Black Cock
BBC in the adult industry is incredibly popular. It doesn't matter whether we're talking about real black men or dildos, people are crazy for Big Black Cocks. If a viewer requests this, chances are they want you to have a dildo like this handy.
Big Black Cocks attract many different types of people. Most, if not all of them will be heterosexual. If they weren't, they'd probably just go to a male cam instead.
You may attract the cuckold husband that wants to watch you and here you describe how you'd violate their wives while he is sat watching. Some guys just want to see you stretched and hear you moan while using a big black dildo and others will be into Small Penis Humilation which I will discuss later on in this article.
CEI - Cum Eating Instructions
If you're a fetish model it's very likely you'll get some clients who want to be instructed to eat their cum.
I'm not even joking. Though I'll be honest, a lot of men will not follow through. They just like the thought of you telling them what to do and maybe even persuading them to do it. If you manage to to get a man to eat his own come, you are absolutely great at doing CEI and should flaunt it.
Some guys will have already came into a glass, container or some other thing and will drink every single last drop. Others will start off wanting JOI and then by the end of that they will be begging for you to tell them where to cum and how much.
You'll also find some guys that want you to watch while they get into incredibly difficult positions and shoot their load all over themselves or even into their mouths.
Being dominant is key, they no longer own their orgasms. You do. Mentally they are not eating their own cum, it is now yours and it's up to you to make them eat it. It may be surprising how easy it is to make a guy into your little cum eating slut.
SPH - Small Penis Humiliation
Viewers that enjoy SPH will want you to laugh at their manhood, or lack of…
Even if the client is average or the biggest you have ever seen. If they want to be humiliated for having a "small" penis do what you have to do and don't hold back. Maybe your client has a long penis but it's very thin, it's not all about length. Get creative with your humiliation.
You will find that most clients just want to experience the awkwardness and humiliation. Some will genuinely have a micro penis and others will be more interested in the cuckoldry aspect that comes from not being able to please their woman.
CBT - Cock & Ball Torture
Fairly straight forward. Cock & Ball Torture is inflicting pain to a mans cock a balls. This is slightly harder to do over the internet as you aren't their to physically hurt their balls. Instead you're going to have to get a little creative.
Having CBT toys around your stream isn't really going to do much for you as you obviously can't use them. Instead your clients will probably show you things they have around the room or will wait to see what your creativity brings in terms of pain.
If you're lacking creativity I'm sure you can always make them flick and hit themselves. Shoes are always great too if you're looking to add a little something.
You may find that a lot of your clients that are requesting this actually have experience with this fetish. Meaning that a lot of them will know already what they can get away with. The last thing you want to do is permanently damage a viewer of yours.
A lot of cam sites will not allow this. I keep saying it, but read your cam sites rules.
Findom - Financial Domination
Financial domination is also known as money slavery. It's usually a man that's a submissive "paypig", They'll give you gifts and money.
This seems like easy money right? It's not as easy as you may think. Being a good findom isn't just sucking a man dry of his money. You'll have many different forms of Findom that your viewers may be interested in.
Some want to be driven to liquidation, others will genuinely get a kick out of sending you a tribute. Many just want laughed at for being so pathetic to the point they spend money for female company.
DP - Double Penetration
Double Penetration is fairly common, probably to the point that I'd not list it as an actual fetish however it's definitely an Acronym.
You'll need two dildos, strapons or men around to provide your viewers with this show. If you're needing to buy high quality toys to use in your shows buy them from Adam&Eve.
A lot of models charge extra for this. Many aren't comfortable doing DP either. If you find it uncomfortable then obviously avoid doing this.
Conclusion
That's all the fetish acronyms you'll most likely need to know. If a customer says something that you don't know, ask them what they mean. It's as simple as that. Don't take any fetish work you're not comfortable with and make sure to read your cam sites rules if you're considering taboo work.